After almost 50 years of bringing Texas Creole to Houston, Brennan's ponders second location
By Natalie Harms, Print Associate Editor - Houston Business Journal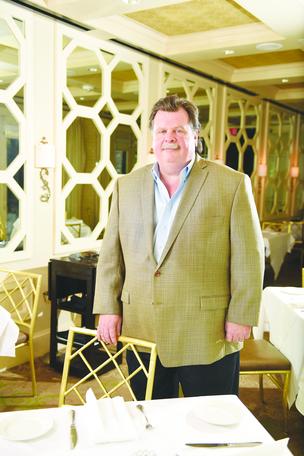 Daniel Ortiz/HBJ
"As economic conditions improve, we hope to open a second location." -Alex Brennan-Martin, president, Brennan's of Houston
On any given weekday come lunchtime, you'll find Alex Brennan-Martin working the crowd at Brennan's of Houston. You'll hear him greet the regulars, introduce himself to new faces and say warm words to the staff. It's how each day goes, and has been since the restaurant's inception in 1967. Brennan-Martin — from the Brennan family that also runs Commander's Palace in New Orleans — has been on board at the Houston restaurant since the 1980s.
Consistently, Brennan's has topped best restaurant lists and been a go-to dining venue for Houstonians.
How do you ensure that Brennan's stays a Houston landmark? We determined a long time ago that there will always be great restaurants in Houston to eat at, and we asked why people were still coming back to us. It all revolved around memories. We teach that all of our jobs revolve around making those memories, whether you're a server, a cook or a bartender.
How do you make sure your staff has a superior level of service and knowledge? I think people often look down on servers. And, oftentimes, servers look down on themselves. They don't see the importance of what they do. I do a new-hire talk with every new employee, and we have training videos. The one thing I (tell them) is what you do matters. What can be more honorable than giving a great memory to another human? Our veteran (servers) — and that's the reason that they come back — have so many other opportunities, but they stay because that hits them where they live. When you make a difference, when you see that you're a part of making a memory for others, there could be nothing more honorable. Selfishly, we get to do that. And people have trusted us with that. That's why I say I'm just watching this restaurant for other Houstonians. It comes down to retaining people who understand that and finding people that's important. It's much more art than it is science.
What has been the biggest difference from Commander's Palace in New Orleans and this one? Ownership, to be sure. Brennan's in New Orleans closed and went into bankruptcy, so some cousins … ended up with the Royal Street location and we ended up with Commander's Palace. But Brennan's in New Orleans recently reopened and has been remodeled and they've done a wonderful job.
How did Brennan's morph into Texas Creole-style food, as you call it? I got frustrated one day when we were trying to make a crawfish pie — a simple, creole Cajun dish. And the Hispanic guys in the kitchen and I couldn't get it right. I said, "Look, here are the ingredients for crawfish pie. I'm going to make crawfish pie, and you make what you want to make." They made a crawfish enchilada and I ate it and thought, "That's better." Now it's been on the menu for 25 or 30 years.
What's surprising to you about the food industry? I'm shocked at the interest in these cooking shows on TV and the cult and fan following for chefs. When I grew up, my mom and my uncles would have to go bail cooks out of jail just to have people to work. It was a job like being a dockworker. Being a chef had nowhere near the aura it has today.
What's the best piece of advice you learned from your mother, who took over the New Orleans Brennan's in her 20s? The essence of what we do is hospitality, and for us it's southern hospitality, which is at the core of everything we do. My mom told me two things: "Treat your guests as if they were at home, even if you wish they were." And that means it's not about you, it's about them. The other thing she told me was, "First you make a friend." And that just means treat people as you would like to be treated.
What advice would you give to someone who wants to open his or her own restaurant? Figure out if you really enjoy creating memories for people. If you don't, you're not going to last. This is a hard business. We work weekends, nights, holidays — we're here on Christmas Eves, all Mother's Days and Easters. If you don't truly get joy from seeing the difference you make, then you might want to consider something else. In the end, that's the fuel that keeps you going.
What's the biggest challenge your industry faces? One of the biggest challenges is regulation. It's something that to most people and restaurants in the industry is challenging. For us, we've been offering benefits for years, and we struggle to keep up with the regulations associated with that. The other challenge is that we have this McDonald's generation. There are an awful amount of people who did not grow up with family dinners, and so the concept of service and the prior experience just isn't there. We're challenged with finding ways to expose people to that and to train them. In Houston, there's also the challenge of real estate costs. The reason I'm not running around opening a bunch of (concepts) is because it doesn't make sense on paper.
Is opening another restaurant something in the works for you? I'm actively involved in several projects in New Orleans — where the costs are more in-line. We'll do a second location. I'm fortunate enough to not have to do another location right now. I could be a little more picky about when and where. I know I can't replicate this ambience and I certainly can't replicate the memories that were built here. So, when we do it, it won't be a carbon copy.
What's the biggest mistake you've made? Not being able to answer succinctly why customers really choose our restaurant. One time a customer asked me that question, and I couldn't answer. I didn't have an elevator speech. I couldn't sum up why customers choose us over others. A few years ago, I set out to do that. I ended up writing a book about it, and so I guess I spent a lot of years without that as an alley. Now, I know it. It's because we create great memories for our customers.
What's on the horizon for Brennan's? As economic conditions improve, we hope to open a second location, but I guess the other way of saying it is, I look forward to more of the same.
This interview has been edited for length and clarity.
---
Closer look: Alex Brennan-Martin
President, Brennan's
Age: 56
Hometown: New Orleans
Education: La Varrene in Paris
Family: Wife, Robin; two daughters, Addie and Lexie
Favorite dish now: Oysters Jimmy, pan fried and comes in its own skillet, named for the restaurant's oyster supplier
Favorite drink: "I'm a scotch guy — Macallan."
Favorite restaurant: "Bayou City Seafood and Pasta. Robin and I got engaged there."
Source: Houston Business Journal