Tuesday, February 6, 2018
By Leah Shah
Laissez les bons temps rouler! You don't have to be in New Orleans to celebrate Mardi Gras. Houston's strong cajun influence shines as Mardi Gras festivals, parades, happy hours, and freshly baked king cake take over the town. Grab your krewe and check out our list of the best ways to celebrate Mardi Gras in Houston.
PARTIES AND PARADES
Though it's just outside Houston, Mardi Gras! Galveston is the third largest Mardi Gras celebration in the United States, attracting more than 300,000 attendees annually. The nearly two-week (February 2-13) celebration is best known for its lavish parades held on the streets of the city's historic downtown and beachfront. The 2018 event is celebrating its 107th anniversary with over 20 parades and dozens of concerts, balcony parties, DJ laser shows, masked balls and more.
The 5th annual Houston Creole Festival & Mardi Gras Parade will take place at Budweiser Brewery on Saturday, February 24. The event kicks off at 12 noon until 7 p.m. and features live music by zydeco and southern-inspired favorites. Don't miss an action-packed day of parades, food and drinks, and other family activities.
Kingwood's Mardi Gras Festival and Parade is the perfect fit for a free family day out over the holiday weekend. From noon to 6 pm on Saturday, February 10th, the celebration will include live music, craft booths, kidzone with bouncy houses, and delicious selections from local food vendors. Local businesses and organizations will parade around Town Center Park with free beads and candy at 2 pm.
MARDI GRAS HAPPY HOURS AND PUB CRAWLS
The nightlife options in Houston are endless. But we selected a few Mardi Gras celebrations that should be especially fun. Head to Conservatory for their Hawker Night Market on Saturday, Feb 10, for all the flavors of Mardi Gras. Sip on daiquiris while you sample from an array of vendors dishing up Cajun bites like fried alligator, crawfish croquettes, beignets fries, boudin balls and more.
Brennan's of Houston truly offers an authentic take on Mardi Gras. After all, Brennan's is part of the same family as Commander's Palace, the landmark New Orleans creole dining room in the heart of New Orleans. Brennan's of Houston will celebrate Mardi Gras in style with beads, palm readers, jazz bands, specialty cocktails and a special menu that includes favorites like snapping turtle soup, Gulf Coast shrimp and grits, and Vieux Carre Beignets.
Head downtown for the 2nd annual Mardi Gras Pub Crawl Saturday, February 10 to some of downtown's best bars. The pub crawl features free swag and beads as well as drink specials. The event will make stops at Boots 'n Shoots, Dean's Downtown, Christian's Tailgate Bar and Grill, Lilly & Bloom, El Big Bad, Bovine & Barley, Batanga Houston, Shay McElroy's, Springbok and Molly's Irish Pub.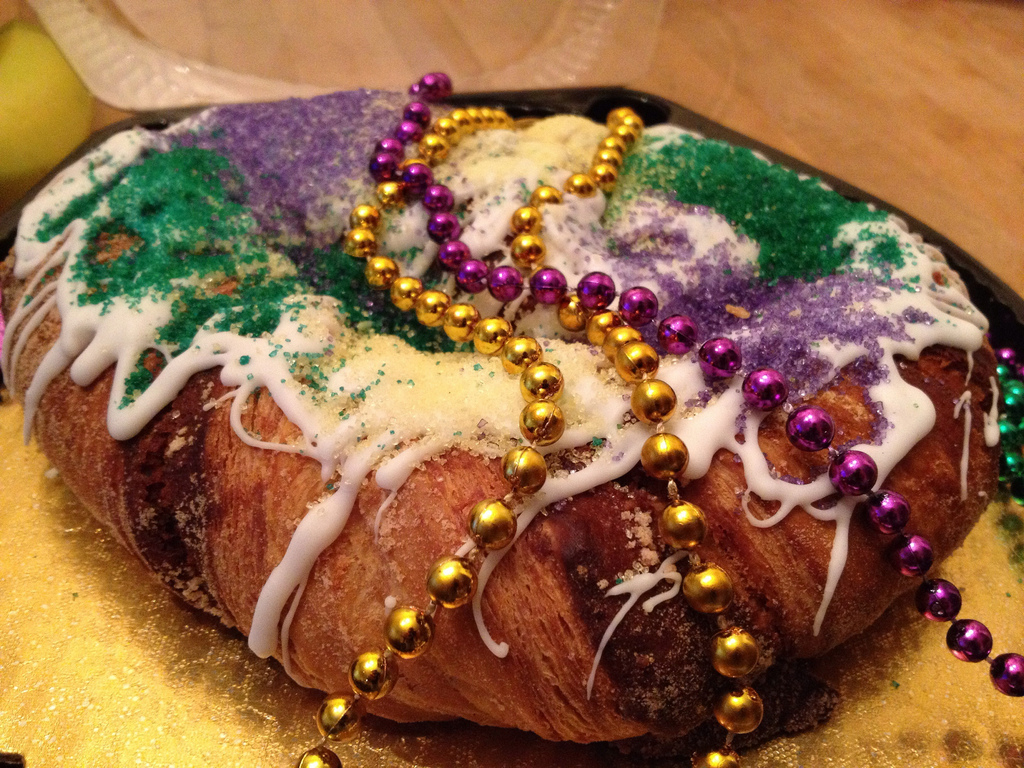 WHERE TO GET KING CAKE
No Houston bakery list is complete without mentioning Three Brothers Bakery. The iconic baker is expected to serve up to 5,000 king cakes this season! For nearly 200 years the Jucker family has been in the baking biz, so you know it's going to be good.
French Riviera Bakery & Cafe is a cozy bakery and bistro that serves sandwiches, salads and breads right from the oven. But during Mardi Gras, the bakery pumps out some of the best king cake the city has to offer. Grab some breakfast while you're picking up your cake, you'll be glad you did.
When you mention Boil House to Houstonians the first thing they think is crawfish. But did you know the well-known Heights mudbug spot also serves up a mean homemade king cake? Stop by for a slice or pick up a whole cake for the perfect Mardi Gras treat.

Want to make your own King Cake? Check out this recipe by Joanie Zisk, a Houston based recipe developer and creator of One Dish Kitchen where foodies will find recipe ideas in single-serving sizes.