Brennan's of Houston Is Off to The Races with A Special Kentucky Derby Celebration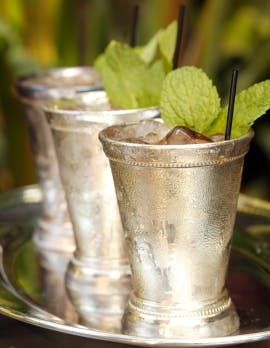 Ladies, break out your hats and honor Derby Days in true, Southern fashion!
At least once a year, American traditions dictate that we celebrate the fashions and fun of heading to the races, even if you can't make it to Churchill Downs! Brennan's of Houston invites dapper gentlemen and lovely ladies to gather in The Courtyard Bar and Courtyard Patio, dressed in their weekend best, to toast the races and nosh on Executive Chef Danny Trace's world-class, Southern fare. There will be a special version of the tradition "Hot Brown" - a dish of Tasso & Texas Gold Cheddar with Kraftsmen French Bread, Pea Patch Tomatoes, Okra Pickles and Bacon Salt Chips - paired with an Orange Mint Tea Cocktail for $15.
Brennan's will also feature the Sterling Classic Mint Julep (served in a traditional silver julep cup) alongside a twist on this classic - the Mint Julep Moderne (served up, in a martini glass), and a natural sparkle of Dejoria Champagne.
Ladies wearing Derby hats will also receive a complimentary
Pimm & Proper cocktail
Group(s): Brennan's of Houston
Source: Brennan's of Houston