Brennan's of Houston Reveals a Modern Wine Table with Custom Tastings from One of the Most Extensive Wine Programs in the South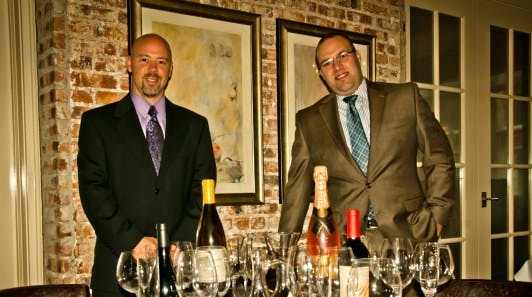 (Houston, TX; December 2, 2011)— Tucked within the main dining room at Brennan's of Houston there's a table next to the wine wall that looks like all the others at first glance, but study the details and you'll note key elements distinguishing it from its neighbors – guests enjoy personally customized wine pairings while sipping from specialty stemware as they are guided through tasting notes, and nosh on a unique five-course paired menu prepared by Executive Chef Danny Trace.
After Hurricane Ike caused a two-alarm fire that destroyed 75 percent of the original historic building – including the bottles housed in its wine cellar – Brennan's reopened with renewed vigor on February 16, 2010. After 43 years of amassing a formidable wine list, the award-winning collection needed to be rebuilt from the ground up and reimagined to reflect the restaurant's updated décor. On the heels of this 17-month renovation, during which the southern dining destination indeed overhauled its wine program, Brennan's of Houston is proud to present their new Wine Table.
Our Wine Guys have a drink 'what you like philosophy'and believe that you don't have to be a snob to truly enjoy a great meal,' says proprietor Alex Brennan-Martin. 'We wanted to bring about the return of the Wine Table program and develop an experience where the food is based around the accompanying wines versus the other way around.' Seating parties up to 12, diners will choose to either sample Lead Wine Guy Jason Sherman's choice of featured wines or partner with him to customize a menu tailored to their preferences. The table has become the premiere destination for oenophiles and lovers of elevated, Texas Creole Cuisine from across the nation. In applicable months, the Brennan's Wine Guys will curate a selection of wines from their thoughtful list in order to highlight seasonally relevant varietals.
Though these special varietal options are only offered in specific months, diners are still welcome to fully customize their Wine Table experience any time of year. 'We are lucky to have some of the best wines in the world cellared here,' states Sherman. 'Add in our reputation for catering to wine enthusiasts paired with our own a deep love for grapes and the result is our new Wine Table. Though it's just taking off, it already feels as if it's been a part of the Brennan's institution since we opened more than 40 years ago. The experience is unparalleled for oenophiles and has quickly become a popular feature at the restaurant.'
Several tiers of pricing are available and start at $155 per person; reservations for this unique tasting are required, and only one Wine Table experience is booked per evening. For more information or to make a reservation, please contact Brennan's of Houston at: 713.522.9711 or visit www.brennanshouston.com.
Source: Brennan's of Houston
Released: December 02nd, 2011 01:32 PM