Crawfish Boil Leftovers?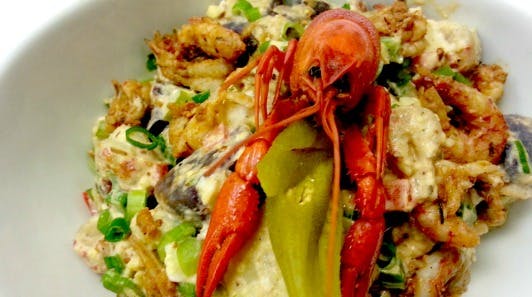 Executive Sous Chef James Reedy is a Cajun from South Louisiana and does 2-3 boils for this family and friends a year. These ingredients make it so all flavors are infused and no dry heat to dry anything out makes it easy to repurpose each component.
For Sous Chef James, he uses the tails for etouffee but you can easily use them in a pasta dish like our Crawfish Kacal. With the corn, you can cut them off the cob and turn into Maque Choux, Crawfish Bisque or add to cornbread. For the potatoes, it makes a killer, spiced potato salad.
Breaux Bridge Crawfish Potato Salad
8 servings
Ingredients
2 lb Fingerling Potatoes (Or Favorite )
1lb Fresh Louisiana Crawfish Tails
1 Shallot (Small Dice )
1 Small Bell Pepper (Small Dice)
1 Stalk Celery (Small Dice)
1/4 Cup Crispy Bacon Chopped (Optional)
1/4 Cup Boiled Egg (Finely Chopped)
1/2 Lemon Juiced
2/3 Cup Mayonnaise
1/4 Cup Creole Mustard
1/2 Cup Pickled Okra (Small Dice)
1/4 Cup Pickled Okra Brine
1/2 Bunch Green Onions Chopped
Salt, Pepper and Creole Seasoning To Taste
3 Tablespoons Grapeseed Oil
Method
1. Blanch Potatoes Until Tender and Chill.
2. In A Sauté Pan, Sauté Creole Seasoned Crawfish Tails in Grapeseed Oil And Chill.
3. In the Same Pan with Grapeseed Oil Sauté Shallots, Bell Pepper and Celery Until Tender then Chill.
4. In A Large Bowl add Potatoes, Shallots, Bell Pepper, Celery, Bacon, Okra and Chopped Egg. Add Mayonnaise, Creole Mustard, Okra Brine, Lemon Juice and Mix Gently Until Well Incorporated.
5. Fold-In Crawfish Tails, Green Onions and Season To Taste.
Group(s): Recipes
Released: March 20th, 2019 04:16 PM