It's a Family Reunion of James Beard Proportions!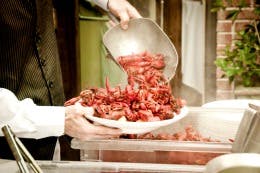 SAVE THE DATE!
IT'S A FAMILY REUNION OF JAMES BEARD PROPORTIONS!
The Celebrity Chef Tour brings chefs of The Commander's Palace Family of Restaurants to Houston

(HOUSTON, TX; August 11, 2011)—The James Beard Celebrity Chef Tour is making its way to Houston on Thursday, September 29, 2011, for a celebration of the best Creole cuisine found in the country. The chefs from each of the Commander's Palace Family of Restaurants will join culinary forces at Brennan's of Houston (3300 Smith Street) to create an unforgettable, six-course meal featuring the creations of Chefs Tory McPhail (Commanders Palace), Chris Lusk (Café Adelaide & The Swizzle Stick Bar), Rolando Soza (Bistro Alex), and Danny Trace (Brennan's of Houston).
This culinary family reunion kicks off with a reception featuring passed canapés, fine wines, and Stella Artois beer. Next, prime your palette as each chef prepares dishes for a six course menu, showcasing their individual interpretations of playful, modern, Creole cuisine while utilizing fresh, local ingredients and expert pairings from Brennan's Wine Guy, Jason Sherman. On top of delicious food and great drinks, the chefs will also bring their wit and charm to the dining room, mingling with guests and ensuring all who attend to leave feeling like "one of the family."
The Brennan's of Houston Celebrity Chef Tour Dinner will begin at 7 p.m. on Thursday, September 29, 2011. Tickets are $150 per person (inclusive of reception, wine pairings, tax, and gratuity) and can be reserved by calling Jeff Black at 720.201.1853 or by visiting http://www.celebritycheftour.com.
A portion of the evening's proceeds will benefit the James Beard Foundation's educational programs, which include programs from continuing education classes, guided tastings, readings, and conferences, to children's programs, scholarship opportunities for aspiring culinary students, and volunteer opportunities for current culinary students. To date, the Celebrity Chef Tour has raised more than $850k for the James Beard Foundation.
ABOUT CHEF DANNY TRACE:
Chef Danny Trace cut his teeth in the kitchens of Johnson & Wales and from these roots; he's become an integral part of the Commander's Palace Family of Restaurants. Trace first worked with the well-known restaurant group when he took the culinary reins at Café Adelaide in New Orleans. He then transitioned into the executive chef role at Commander's Palace & On the Rocks Bar at HarborWalk Village in Destin, FL before moving to Houston in 2009. Co-owner Alex Brennan-Martin hand-picked Chef Trace to re-open and guide the landmark kitchen at Brennan's after months of rebuilding from a traumatic fire caused by Hurricane Ike. Chef Trace balances the Brennan's menu through incorporating the local flavors of Texas Creole with the spirit-influenced cuisine he honed at Café Adelaide.He melds past experience with modern technique and flavors, adding his trademark stamp to the Brennan's menu.
ABOUT CHEF TORY MCPHAIL:
Hired at Commander's Palace at the age of 19 by then-Executive Chef Jamie Shannon, McPhail worked through all 12 stations of the kitchen, honing his craft and making a positive impression on his boss. He completed a series of stints at culinary hot spots—including the Michelin-starred L'Escargot in London and its sister restaurant, the Michelin two-star Picasso Room—before returning to the Commander's Palace family in 2000, working at its Las Vegas outpost. In 2002, the Brennan family named him executive chef of the original Commander's Palace in New Orleans and he has continued his dedication to exploring a variety of flavors in his seasonal menus—embracing Creole traditions while updating classic dishes with fresh, local ingredients.
Both a James Beard Rising Star Chef nominee and Best Chef: South nominee, McPhail was also the winner of the Great American Seafood Cook-Off in 2009; co-authored Commander's Wild Side; and has been a spokesperson for Wild American Shrimp and for McCormick's Old Bay seasoning.
ABOUT CHEF CHRIS LUSK:
Chris Lusk's career has spanned an eclectic range of culinary experiences—from an externship in an Irish hotel and time as a sous chef cooking Tex-Mex under Stephen Pyles at Star Canyon in Dallas to creating Asian cuisine in Florida and Italian under Mario Batali at Otto Enoteca in New York. Lusk has earned his Louisiana cooking props working with the Brennan family at Foodies Kitchen in Metairie and Commander's Palace in New Orleans. A follower of author Harold McGee (On Food and Cooking: The Science and Lore of the Kitchen and The Curious Cook: More Kitchen Science and Lore), who writes extensively about food and science, Lusk brings a keen inquisitiveness to the Café Adelaide kitchen, studying how cooking works and using that knowledge to make improvements and changes where needed. His talent and inquisitiveness have earned him accolades locally and nationally, including being names one of four breakout chefs to watch by Esquire magazine in November 2009.
ABOUT CHEF ROLANDO SOZA:
Rolando "Roland" Soza began his tenure at Bistro Alex's as Executive Sous Chef in 2009. But, before coming to Brennan's, Soza served as a line cook at Aries, Zula, Trevisio and Tony Ruppe's, where he was able to train under some of the city's most notable chefs, earning valuable experience in a broad base of cuisines, ranging from Texas Creole and Modern American to Italian and French. With more than a decade of experience in contemporary fine dining, he joined Bistro Alex's opening team after leaving his position as Sous Chef for Brennan's of Houston, Bistro Alex's sister restaurant in Midtown. He has also collaborated on an award-winning cookbook The Kitchen Table with former Brennan's Executive Chef, Randy Evans.
ABOUT BRENNAN'S OF HOUSTON:
The Brennan's of Houston kitchen has explored the vast spectrum of Creole's evolution in the "Bayou City." Cultural influences in South Texas and an abundance of fresh produce unique to the region have provided ample opportunities for delicious Texas variations on time-honored Louisiana themes. Along the way, the passionate Brennan's team has received accolades establishing the restaurant as one of the finest in the city. Awards such as Exxon Mobil's Four-Star designation in 2000, and a nod from restaurant reporter John Mariani in 1997, who called former Executive Chef and General Manager Carl Walker "one of America's most influential chefs", are just two such accomplishments Brennan's counts on its list of accolades. Brennan's has also been regularly rated among Houston's "Best" and "Most Popular" restaurants in the Zagat Survey.

ABOUT THE CELEBRITY CHEF TOUR BENEFITING THE JAMES BEARD FOUNDATION:
Since its inception in 2004, the Celebrity Chef Tour benefiting the James Beard Foundation has become a favorite event for both the chefs to participate in and guests to attend, and has raised more than $825,000 for the James Beard Foundation. The Celebrity Chef Tour brings James Beard Foundation Award winners and other celebrity chefs to private clubs, resorts, and other exclusive venues around the country for spectacular dining events. The tour was created to benefit the James Beard Foundation and to promote the culinary arts across America.
Proud sponsors of the Celebrity Chef Tour benefiting the James Beard Foundation include, Mercedes Benz, Stella Artois, and VisaSignature®. Partners include Wine & Spirits magazine, Certified Angus Beef, Hudson Valley Foie Gras, Fiji Water, and Forever Cheese.

ABOUT THE JAMES BEARD HOUSE AND THE JAMES BEARD FOUNDATION:
James Beard is widely recognized as the father of American culinary arts. Throughout his life, he pursued and advocated the highest standards, and served as a mentor to emerging talents. The James Beard House is where Beard lived, taught, and welcomed friends and colleagues who shared his love for food. Shortly after he passed away, a group of friends sparked a drive to save his home and create a living memorial and a center for the culinary community. It has become what Founding President Peter Kump envisioned it could be: "a culinary place to see and taste the work of this country's most talented chefs, winemakers, cookbook authors, and teachers." The James Beard House's sister nonprofit organization, the James Beard Foundation, the mission of which is to "celebrate, preserve, and nurture America's culinary heritage and diversity in order to elevate the appreciation of our culinary excellence," furthers Mr. Kump's vision by providing scholarships and volunteer opportunities for aspiring culinary professionals, educating today's youth on the importance of good food and essential nutrition.
For more information, please see www.celebritycheftour.com.


Group(s): Brennan's of Houston
Source: Wagstaff Worldwide
Released: August 11th, 2011 12:24 PM