Product Feature in the Courtyard Bar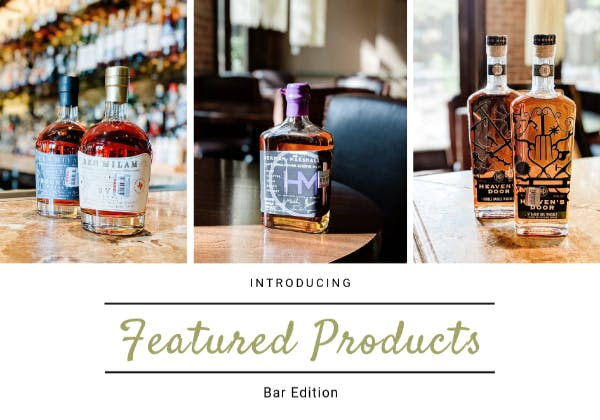 Ben Milam Whiskeys
Ben Milam (1788 -1835) was a Kentucky native who became a Texas freedom fighter. Ben lost his life during the Siege of Bexar just prior to the Battle of the Alamo. Marsha Milam, a descendant of "Ole Ben" has set up distilling operations in Blanco, Texas to produce whiskey in his name. Why Blanco, Texas? It's the water. The water is naturally filtered through native limestone and is rich in calcium and magnesium while being low in iron. Perfect water for whiskey making. We are featuring two products from Marsha's labor of love.
Ben Milam Single Barrel Bourbon Whiskey is 86 ° sipping bourbon with brown sugar and caramel notes. This whiskey is a Double Gold winner at the San Francisco Spirits Completion, a true benchmark for any whiskey.
Ben Milam Small Batch Straight Rye Whiskey is bottled at 90.4°. This is another great sipping whiskey. People who shy away from the dynamic spiciness of rye whiskies will fine the lower rye and higher corn mash bill of this bottling delightful.
Herman Marshall Devine Reserve
Herman Beckley and Marshall Louis of Garland, Texas's Herman Marshall Distillery have managed to produce a uniquely Texas spirit by finishing their straight bourbon whiskey in beer barrels. Not just any beer barrel. They selected barrels that once held Houston's Saint Arnold's Divine Reserve Imperial Stout. What does all that mean to the sipping end of the trail? Divine Reserve is a robust malty brew that brings an earthiness to this whiskey. The result is a heady sipper that makes a Manhattan worth all the beads it took to buy the island in the first place.
Heaven's Door Whiskeys
"The Times They Are A-Chanin'" Heaven's Door whiskies are Bob Dylan's first brand partnership and they are something unique from bottle to booze. Dylan is using various Master Distiller's to produce his Tennessee whiskies. While they all use the Lincoln County Process, whiskey filtered through sugar maple charcoal, the creative process is different for each offering—how very Dylan. We are serving two of his current offerings.
Heaven's Door Double Barrel Straight Bourbon Whiskey is a 100° sipping bourbon with rich earthy hints of smoke. This bourbon is a marriage of three different mash bills finished in hand toasted new American oak barrels for an additional year. While it is positioned as a sipping bourbon, we concocted a great Old Fashioned using spicy apple butter in place of the muddled sugar and orange slice. Yes indeed!
Heaven's Door Straight Rye Whiskey is a high rye whiskey bottled at 92°. This rye has a woodier flavor than most, since it is finished in French cigar barrels (elongated like a Port pipe barrel). This sipping rye received a Double Gold award from the San Francisco Spirits Competition proving that something new is "Blowing In The Wind." Sorry, I just could not stop myself.
Group(s): Brennan's of Houston
Released: January 08th, 2019 02:20 PM